GPS Tracking Platform

1. Insert SIM card
Whether prepaid or contract. The GPS Tracker Mini© works with any Mirco SIM card in standard format from any country worldwide. Hint: Order a prepaid SIM card here.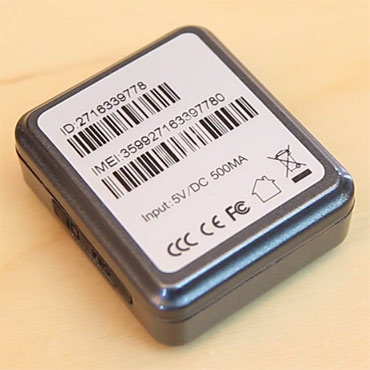 2. Log in to the platfrom
All you have to do is log on to the platform website with the tracker's ID number (to be found on the back of the tracker). You are ready to start!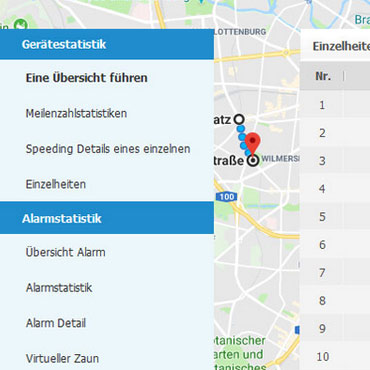 3. Use GPS positioning platform
After you have logged in, you can check the exact location of GPS Tracker Mini© at any time. You can also set alarms, virtual fences and extensive settings.
The GPS Tracker Mini© is the universal device when it comes to reliable tracking of positions. The compact device is unobtrusive and can be taken anywhere. This results in innumerable fields of application, from use in cars to monitoring dogs and cats. GPS Tracker Mini© offers you an all-in-one package with which you can start locating immediately and easily. In the following article we will show you the functions and advantages of the GPS Tracker Mini© .
GPS Tracker Mini© at a glance
The only 4 x 3 cm small and 24g light GPS Tracker has a reliable GPS unit, which allows a high accuracy of 5-15 meters. This allows a very precise location, up to the exact address, possible. And if no GPS signal is available, the GPS Transmitter is equipped with a stable GSM positioning system, which enables the device to transmit its data even in the event of poor mobile phone reception. But it is not just a normal GPS Tracker Mini – a professional listening device is also integrated into the highly developed device.
So you can always hear what is going on around in the surrounding. The software filters disturbing ambient noises such as road noise out of the recording and therefore enables you to listen to conversations that take place up to 10 metres away from the tracker. In addition, the tracker has an automatic noise alarm that informs you as soon as a loud noise is detected. This allows you to use the Tracker as an acoustic alarm system, for example. Thanks in particular to the unobtrusive black housing and its compact design, which is hardly larger than a €2 coin, the Tracker can be placed practically anywhere without being recognised as such. If the tracker has been removed from its place, you are automatically informed by the integrated motion alarm, which perceives shocks.
In addition, the tracker has a new, enlarged battery, which allows a running time of three months. Therefore the device is excellently suitable for long-term locating.
Small and light: 3 x 4 cm and only 24 grams weight
Dual Positioning: Precise GPS and Stable GSM
Secure data transmission: Highly developed GSM works even with
poor mobile phone connections
Unobtrusive appearance
Integrated professional monitoring system with noise suppression
Automatic noise alarm & motion alarm
Up to 3 months battery life
1. Setup
The GPS Tracker Mini© is designed to be as easy to use and set up as possible. Therefore the tracker can be put into operation in only 3 simple steps.
Charge the device using the supplied Micro USB cable.
Insert a commercially available Sim card into the device.
Download the free tracking app to your smartphone and sign in
Now you can start monitoring.

2. Tracking and listening with your smartphone or mobile phone
With the free Tracking App you can easily and quickly start tracking your GPS Tracker. Simply log in with the data you find on the back of your tracker.
You can use the app to monitor the position of the tracker on a map live at any time or to view the entire movement history. With the latter point you can also track exactly where the tracker was at what time. In addition, the app offers another practical feature: The Geo-Fence. This allows you to define an area around the current position on the map. If the tracker leaves this area, you will be notified immediately by message on your smartphone.
But what if you don't have a smartphone? This was also taken into account during development. You can also operate the GPS Tracker at any time by SMS. You don't even need a smartphone. For example, you can use the "dw#" command to find out where the tracker is currently located. The tracker then sends the current coordinates by SMS.
Another function that you can use directly from your mobile phone or smartphone is listening. As already mentioned, you can listen to everything that happens within a radius of 10 meters of the tracker. Be it conversations or important ambient noises. The recording is filtered live so that you don't hear any background noise during conversations. So you can hear every single word crystal clear. This feature is very easy to use: just call your tracker's listening number. The tracker automatically picks up the call and you can listen in immediately.
The mobile functions:
Live tracking with map
Geo-Fence with notification as soon as this is left
Detailed motion path
Also controllable via SMS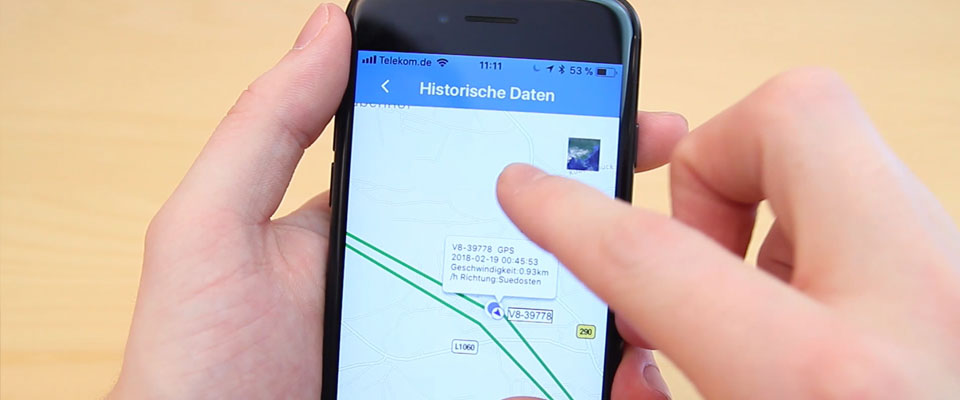 3. Tracking via the online platform
With the purchase of the GPS Tracker Mini© you receive a free membership on our GPS Tracking Platform, which offers a large number of useful additional functions. Just as with the app, the setup and operation is very simple here. Log in with the IMEI number on the back of the tracker and the password of your device. You already have full access to the portal.
As in the app, the current position of the tracker is displayed on a detailed Google Maps map on the start page. Here you can also choose between several GPS trackers, if you use several at the same time. As in the app, you can easily define a Geo-Fence in the portal. The tracking portal offers you a large selection of statistics and information about the movement data of your tracker. For example, it is possible to keep a fully automatic logbook if you use the tracker in your car. With the logbook function you can even enter the fuel consumption of your vehicle and the software automatically calculates how much fuel you have used on the respective routes.
Furthermore, the portal lists all places where the tracker has been. So you can see exactly at what time and where the tracker was. If desired, the position can be displayed as an exact address. So you can see at a glance how long a tracker was at an address and when he left it again.
In addition, you can display all alarm messages – i.e. movement or noise alarm – in a list. Of course, all lists can also be exported as Excel files, which greatly simplifies archiving.
The Tracking Portal offers you a multitude of practical functions, archives and documents all transaction data fully automatically so that you always have an overview.
Free GPS positioning platform:
Simple operation
Position on a detailed Google Maps map with Geo-Fence function
Fully automated archiving and management of tracking data
Integrated automatic logbook
Export of all data as Excel file for convenient archiving

4. The Usage
The application areas of the GPS Tracker Mini© are countless and versatile. Due to its long battery life of up to three months, even long-term monitoring is possible without any problems. For example, the Tracker is suitable for monitoring your own car, motorcycle or your company's vehicle fleet. Especially with vehicles, which often represent a very high material and idealistic value, the owners have the wish for better monitoring. This is where the smallest GPS Tracker comes in. Manufacturer tracking solutions are usually many times more expensive than the ours and must also be brought to a workshop for installation for several days. Furthermore, these systems only work with vehicles of the current series.
These inconveniences can be avoided:
Simple setup without technical prior knowledge
Costs only a fraction of the manufacturer's systems
Installation in a few minutes
Also suitable for old models
Has more features than profile solutions
Since the GPS Tracker Mini© is designed for continuous use, among other things, it is ideal for long-term monitoring of your vehicle and also automatically keeps a logbook.
The vehicle setup kit is included to make setting up your vehicle as easy as child's play:
Find a suitable place in the vehicle where the tracker is well hidden.
Connect the supplied adapter directly to the vehicle's power supply. Alternatively, the tracker can also be operated via the cigarette lighter.
Now you can monitor the position via Tracking Portal or Smartphone
Of course, the vehicle is by far not the only area of application for the GPS tracker Mini© . You can also track your dog or cat, for example, and thus prevent them from escaping. Thanks to the low weight of only 24 grams, this is also possible with small pets. Monitoring to protect your children is also a suitable area of application. The Tracker can easily be stored in your backpack and you will have a clear conscience.